Thanks to everyone for your interest in our study: We are no longer enrolling new participants in this study.
If you have questions or want to be in touch with the researchers, please use the contact tab above.
Associations between personality traits and movement patterns. Study Information
Rachelle P. Tsachor, Assistant Professor of Theatre, Principal Investigator at UIC School of Theatre & Music, University of Illinois at Chicago
Thank you for your interest in our research on the relationship between personality traits and movement patterns. We want to better understand how people's personal movement pattern might be associated with their personality. To the best of our knowledge, our research activities pose no more risk of harm than you would experience in everyday life. To help you make an informed decision, we would like you to know the following about our research.
You will be helping researchers learn more about how movement might reflect personality. Participation in this research is voluntary, so your decision whether to participate or not participate will not affect your current or future dealings with the University of Illinois at Chicago. If you decide to participate, you are free to withdraw at any time without affecting that relationship.
The research appointment takes approximately one hour. Our questions focus on routine topics that people discuss in everyday life, such as how you respond to new ideas or art, deal with disagreement or pursue your goals. Occasionally, someone finds these topics uncomfortable. If that happens to you, you can choose not to answer questions or decide to stop participating in this research and there will be no penalty.
We will ask you to answer a questionnaire using encrypted software called Qualtrics. Your answers will be tracked using an ID number rather than any personal information about you. This ID allows us to connect your survey answers to your interview. In our analysis, we will combine your answers with those of other participants to learn how different personality types move and not about any one person. We will do everything we can to protect your privacy on our end
Next, we will conduct a short movement warm-up and an interview, on a secure application called Zoom, video-recording both. You may wonder what we will do with your video recording. Researchers trained in movement observation will code the video for statistical analysis of movements such as rising, lightening upwards, advancing or enclosing gestures. Only researchers at UIC and the lead research institution (University of Haifa) will see videos of your movement. At the end of this study, any videos maintained will be de-identified by blurring faces and removing the recorded audio (sound).
We hope you will see that none of our questions are overly personal in nature, and that they can be interesting to explore. If you are willing to participate, please go to the link to schedule a time that works with your schedule to meet our research team: https://movementandpersonality.uic.edu. The UIC researchers are: Rachelle P. Tsachor, Primary Investigator, and research assistants. You can call them at: 312-996-7076 or email movementstudy@uic.edu if you have any questions about this study or your part in it. If you have any questions about your rights as a research subject, including questions, concerns, complaints, or to offer input, you may call the Office for the Protection of Research Subjects (OPRS) at 312-996-1711 or 1-866-789- 6215 (toll-free) or e-mail OPRS at uicirb@uic.edu.
Volunteers who complete the study will receive a $10 gift card as a thank you for their time.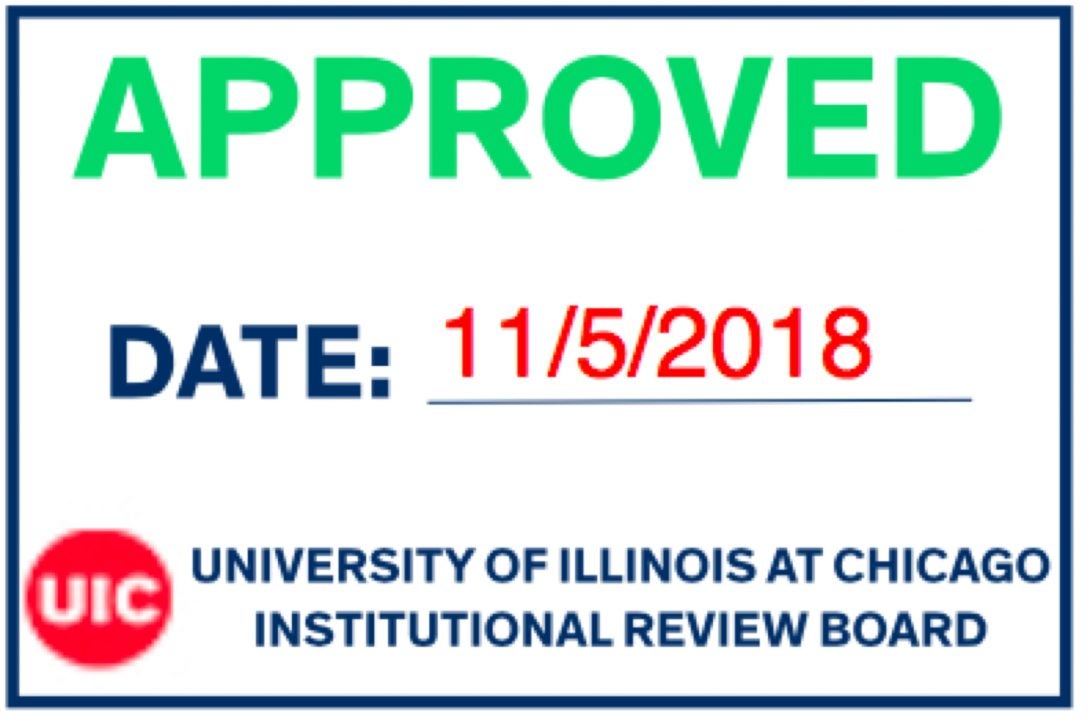 Information Sheet, updated 9/3/2020